Grand Larceny Sample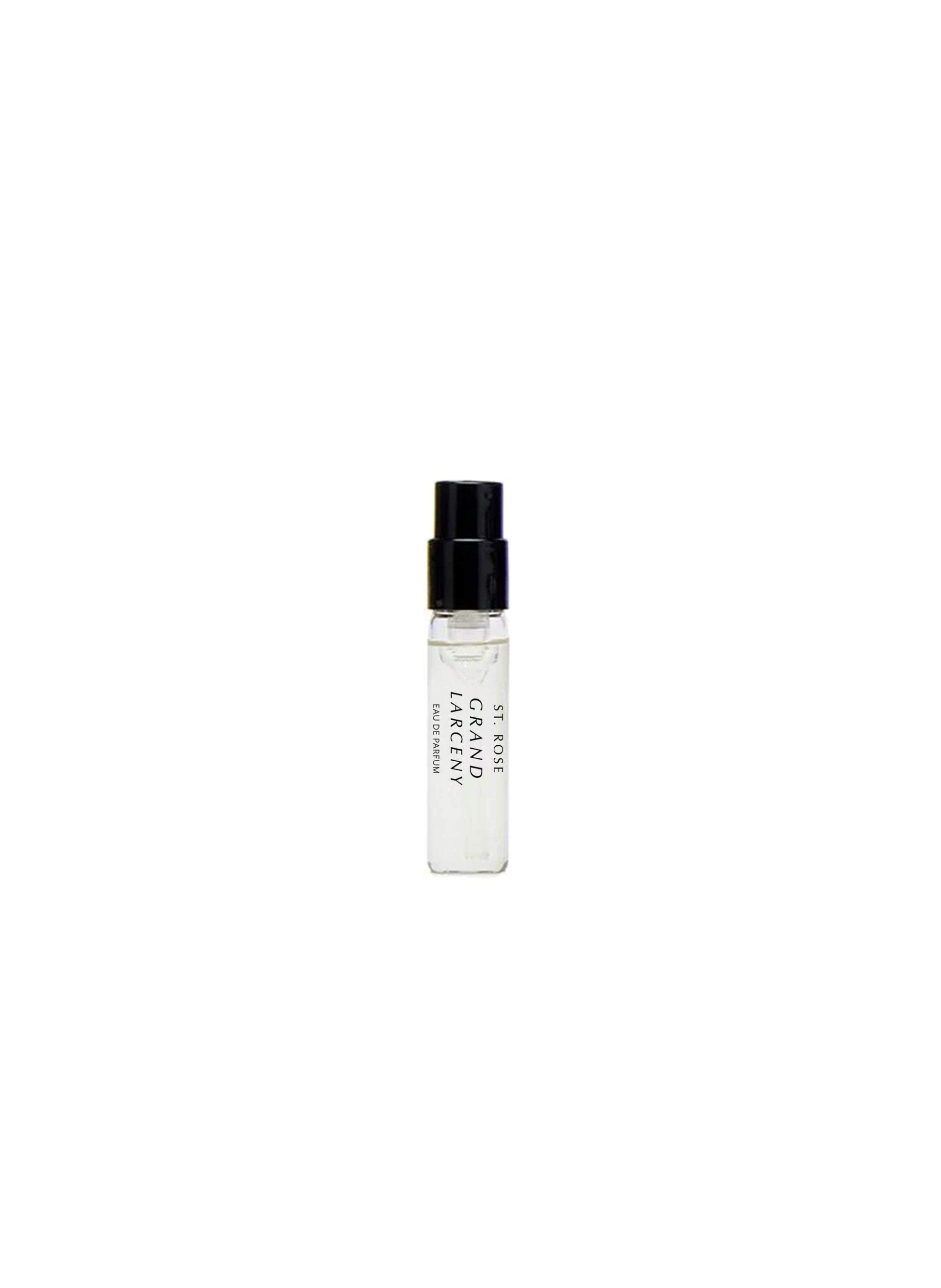 Reformulated in the name of Mother Earth, this new composition strikes an even more sustainable chord with a heart note of Upcycled Rose Concentrate. Maintaining its essence as a modern chypre fragrance for women and men that defies all rules, Grand Larceny is a captivating parfum that celebrates the intrinsic seductiveness of the rose.
The new composition first opens with the freshness of bergamot found on Italy's southern coast and opulence of French clary sage before unfolding into a spicy allure of the upcycled rose with notes of patchouli and Egyptian geranium, followed by the intoxicating warm aroma of vetiver, our signature Australian Sandalwood and Cedarwood in the base.
NOTES
Top: Bergamot**, Clary Sage, Lemon
Heart: Rose*, Geranium**, Patchouli**
Base: Sandalwood**, Vetiver**, Cedarwood*
*Upcycled distillation
**Indigenous-owned + Smallholder Farmers

HOW TO USE

Natural perfumes need time to breathe to fully unfold and reveal their facets in entirety. After applying to skin, enjoy the sensiorial experience from the top to bottom notes for at least twenty minutes to fully experience this sophisticated composition of natural essences from plants and flowers.


Spritz on pulse points.

Apply liberally and wear daily as a reminder to inhale all the good things in life.
GOOD FOR YOU

Rooted in the art of nature, with an absolute commitment to sustainability and transparency, our fine fragrances are handcrafted with the highest-quality and ethically sourced botanical materials from plants and flowers as well as skin safe naturally derived aroma molecules.

WE ARE

✓ Natural Origin
✓ Green Science
✓ Transparent
✓ Vegan
✓ Cruelty-Free
✓ Leaping Bunny Certified

FREE OF

x BHT
x Phenoxyethanol
x Parabens or Pthalates
x Nitro, Poly or Alicyclic Musks
x Artificial Colorants or Synthetic Dyes
x Compromises
GOOD FOR THE EARTH

CLEAN & CONSCIOUS, FROM SEED TO BOTTLE.

Our product formulations are our topmost priority and we remain vigilant to ensure that every single essence brought onto our perfumers' palette adheres to our stringent guidelines for human and environmental health. Every ingredient we use is ethically harvested, organic when possible, and sourced with traceability from its native region for the purest quality and minimal environmental stress.

SOURCING AT ORIGIN

We prioritize working with ingredients that are sourced directly from cooperatives and farmers at origin. Sourcing at origin not only secures the supply chain and quality of key natural ingredients but by working directly with producers we are able to contribute to more stable incomes for smallholder producer families and their communities.

ECO-LUXE DESIGN

We are very intentional in our material selections while not cutting any costs when it came to quality. The parfum glass bottle and cap are crafted in Nice, France. Our packaging is constructed in the USA and cut from FSC Certified board produced with renewable green electricity and 100% post-consumer fiber. 

SMALL CARBON FOOTPRINT

Our products are compounded, filled, and shipped by some of the world's best perfumers and a team of committed people to our shared ethos, all within a 100 mile span of our New York home.

Our Recycle Program encourages customers to mail their empty Eau de Parfum (50ml) bottles back to us for proper disassembly and recycling processing. As a thank you for joining in our efforts to reduce waste, customers will be sent a $25 gift card towards their next Eau de Parfum purchase.